FAQ
Last updated: Wednesday, 3/31/21, at 2:15pm
Find answers to common questions regarding educational technology and remote instruction below.
Canvas
To avoid the storage limit in your Canvas course, instead of uploading your Zoom recordings and other media files directly to your course, you'll want to make them available via the Media Gallery in Canvas. Videos made available this way do not count against the storage quota.

If you had Zoom record your meetings in the cloud, the recordings were automatically be added to My Media in Canvas. The videos in My Media will be available to you indefinitely, just like your course files.
In order to make a file in My Media visible to students, you will need to publish it Media Gallery. This guide from the University of Utah gives step by step instructions for how to publish the recording.

If you recorded your Zoom meetings on your local device instead of to the cloud, you'll first need to upload those videos to My Media. The video under Lesson 1 in our Videos in Canvas (Kaltura) Guide will walk you though how to do that.
For midterm or final projects, papers, or blue-book style exams, create a Canvas assignment with an online submission. Availability dates and times can be used to ensure that students take only the intended amount of time to complete a written exam, and they can be individualized to accommodate the documented needs of your students. Use the following guides to help you create an online assignment:
For mid-term or final exams that consist of distinct questions, create a Canvas Quiz. Our guide to Canvas quizzes provides step by step instructions for help with
common tasks associated with creating, administering, and grading assessments in Canvas. As UCSD Faculty have begun administering final exams using Canvas Quizzes, they've shared their experience and tips in this
Google Presentation
.
Lecture Recording & Podcasting
Please follow this guide for an explanation of the services and a step-by-step guide with links to relevant documentation.

For basic self-recording, use a laptop with a built-in camera and microphone. It should be used in a quiet room where lights and sound can be controlled. 
Zoom and the Kaltura Capture app can both be used to create recordings on your laptop. When using Zoom, be sure to record to the cloud rather than your local device so that the video is automatically uploaded to Canvas.
You can share a presentation on your screen, or point the camera toward a whiteboard as you write and speak.
If you've podcasted in the past and you'd like to re-use those recordings for a current or upcoming course, please email
podcast@ucsd.edu
. Please include in the email: the quarter and course name (e.g. BIMM 100 FA19) and who you want to make the podcast available to: the general public, the UCSD campus, or only students who are currently enrolled in your course.
 Zoom
When you record a Zoom meeting to the cloud using your UCSD Zoom Pro account, the recording will automatically be added to My Media in Canvas. The videos in My Media are not subject to the Zoom limits, and will be available to you indefinitely.
You can absolutely use the same Zoom meeting for general office hours. The easiest way to do this will be to schedule recurring Zoom meetings in the Zoom web portal (not in Canvas). When you schedule the meeting as recurring, the same meeting invitation/link will apply to all of your office hour sessions. You can then paste the invitation information into your syllabus and/or into an announcement for each of your classes along with the days of the week and times of your office hours. This will look similar to how you've communicated your office hours to students previously, except that the "location" is now the Zoom meeting instead of your office.
Meetings that are set to automatically record will start recording at any point that a person enters that meeting. In order to avoid students inadvertently recording a snippet when they test the link, you'll want to turn off the setting that allows participants to join before the host. That way, you'll have to start the meeting in order for any recordings to happen.
Zoom allows you to capture multiple views of your meeting and save them all during cloud recordings. Each of these views is then automatically copied to your My Media area in Canvas. The videos may look similar based on their thumbnail preview, show a student's name/video at the start, or have the same duration, so it can be confusing as to which one to publish for later viewing. 
If you wish to delete one of the videos, you'll need to view each video briefly to see which meeting layout you want to keep. We recommend that you fast-forward to any section of the video where screen sharing occurred to identify quickly which video you prefer. Note that when the video is deleted from "My Media," you will not be able to recover it. Zoom also provides auto-captioning on the "active speaker with shared screen" view so you can quickly identify that option by the presence of closed captions on the video.
If you wish to preserve both copies of your Zoom recording, you may want to rename the videos to help you identify which video is which at a later date. 
For more information about managing your course videos, see the Videos in Canvas page.

To disable unwanted recordings of future meetings, go to your Zoom settings and check only the options for the recordings you want to access in My Media. We recommend only enabling "Record active speaker with shared screen" unless you have a specific need for other layouts.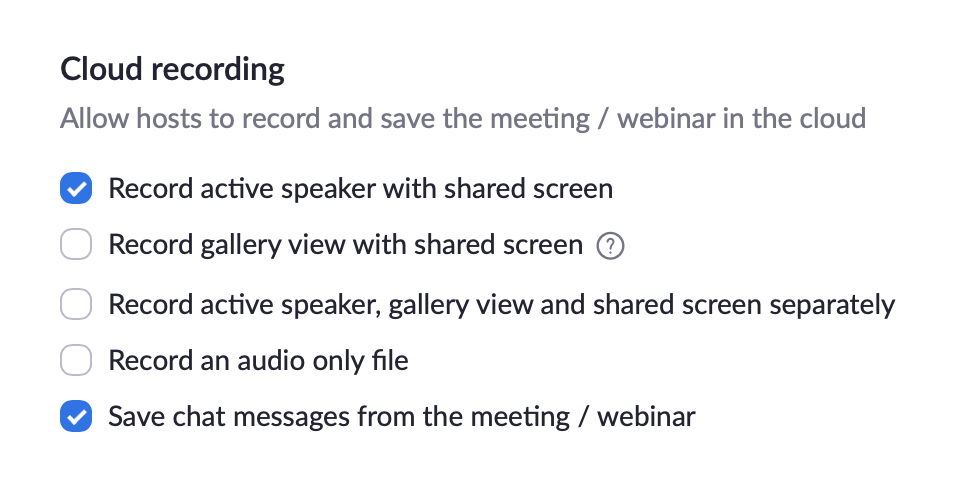 For further details, see the Zoom documentation regarding Cloud Recording and Recording Layouts.
If you have set up breakout room preassignments, but when you open breakout rooms, some students are not sent to the proper room, it is because they are not signed into Zoom with the email address that you used for them when setting up the preassignments. There may be two reasons for this:
They are not signed into their UCSD Zoom Pro account.
Direct your students to sign in using SSO at ucsd.zoom.us before joining the meeting. So that you can require students to sign in to their UCSD Zoom Pro accounts before they join a class meeting, turn on "Only authenticated users can join meetings" in your Zoom settings.

Then, in the Meeting Options for your Zoom lecture, check the box for "Only authenticated users can join," then choose "UCSD Only - please verify your attendees' domains" from the dropdown menu, and click Save.
After making this change, we recommend sending an announcement out to your students explaining that they will not be able to join the next class meeting without being signed in to their UCSD Zoom account. They can sign in using SSO at ucsd.zoom.us.
Their UCSD Zoom Pro account is tied to a different email address than the one you have on your roster.
After following the steps above, there still may be a few students who are not automatically placed in breakout rooms. In these cases, please email us the names and email addresses of the students experiencing the issue at zoom@ucsd.edu to resolve this mismatch.
There is a request in to the Zoom engineers to resolve this issue. In the meantime, this is how we're approaching it:
In the meeting scheduler, you can list people who you would like to assign to be Alternative Hosts. The only power alternative hosts have is to start the meeting for you. They are not giving co-host controls in the meeting. The only way to truly give someone co-host controls (and therefore allow them to move between breakout rooms) is in the meeting itself.
There are two ways that you can make a user a co-host.
1) Hover over a user's video, then click the More icon (three dots), then click Make Co-Host.
2) Click on Manage Participants in the meeting controls at the bottom of the Zoom window, then hover over the name of the participant who is going to be a co-host and choose More, then click Make Co-Host.
Once a participant has been made a co-host in the meeting, they'll have access to the co-host controls.
When scheduling your class meeting, under Meeting Options, check "Only authenticated users can join." When you have saved your meeting:
1) Navigate to the Zoom web portal.
2) Click on the topic of your course meeting
3) Scroll to the bottom of the page and click Edit
4) Find "Authentication Exception" in the Security section and click Add.
5) Add the email address of the individual(s) who need the exception.
6) Save the meeting changes, and double check to be sure you can see the exception in the Security section.
Please note that users who do not have ucsd.edu email addresses cannot register for Zoom meetings without our Zoom account. So, please be sure that registration is not required for these class meetings.
Via Airplay
Your iPad and computer must be connected to the same WiFi network in order to use this option. If you're having trouble, check to see if they are on different networks. If they are, connect to the same network on both devices, then try again.
Via Cable
If you tap Trust or Don't Trust but t your answer isn't accepted, or if the Trust alert won't appear, follow these steps. Try again after each:
Make sure that your computer has the

 

latest version of macOS

 

or the latest version of iTunes. 
Disconnect and reconnect your device from your computer.
Restart your computer.
Restart your device:
If the above steps don't help, go to Settings > General > Reset and tap Reset Network Settings. This also resets Wi-Fi networks and passwords, cellular settings and VPN and APN settings that you've used before.
If you downloaded iTunes for Windows from the Microsoft Store, make sure that iTunes Mobile Device Helper is enabled as a startup item.
If you still need help, contact Apple Support.