Zoom Guides
Last Updated: Thursday, 7/9/20 at 9:23am
The following guides will show you how to complete common Zoom tasks. If you need to complete a task that is not covered here, please email canvas@ucsd.edu for support.
In order to get started using your new Zoom Pro account, you will need to sign in at https://ucsd.zoom.us/.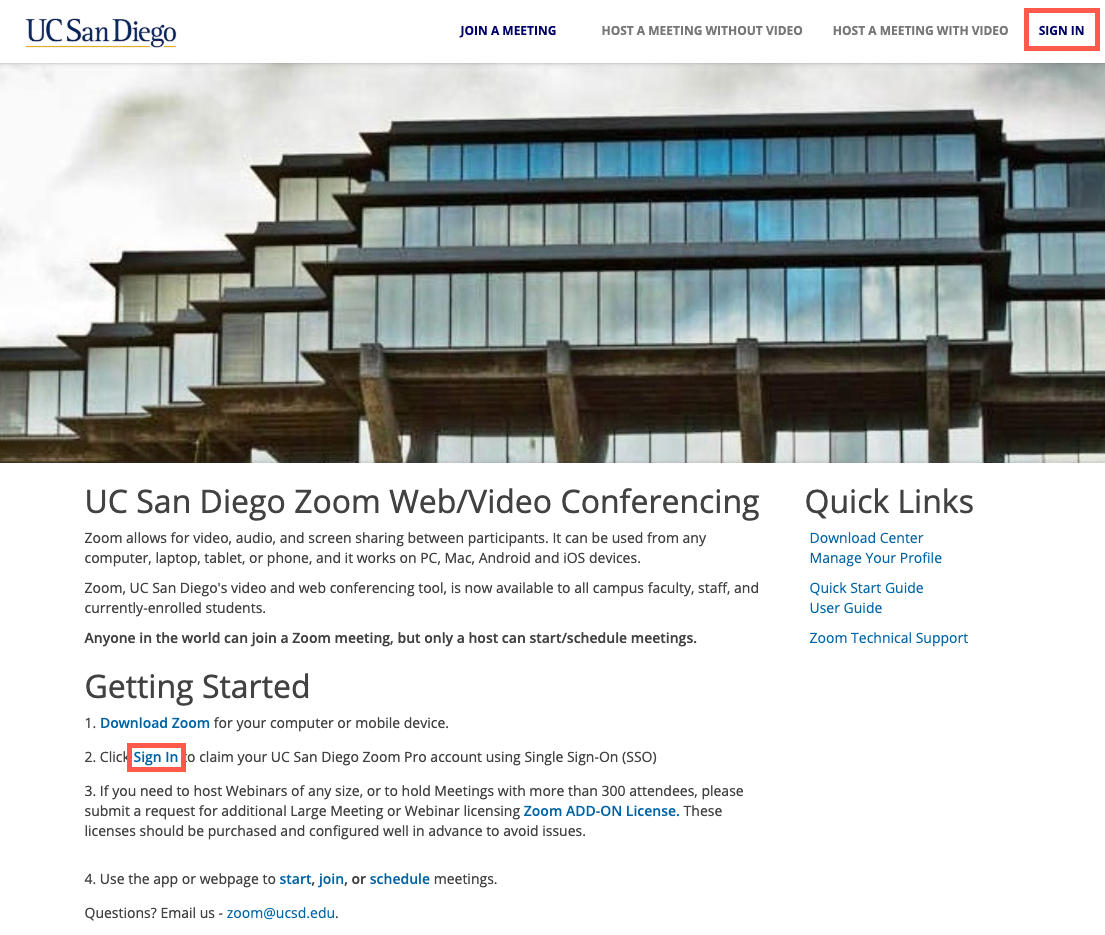 You may be asked to verify your email address by clicking a unique link that Zoom sends to your email address. It can take a few minutes for the email to arrive after you've authorized Zoom to send the email.
You may also want to check to make sure that your device meets Zoom's system requirements.
You can use the Zoom LTI Pro link in the left-hand navigation menu of your Canvas course site to schedule and manage Zoom meetings for your course. When you create a Zoom meeting this way, students are automatically notified and sent the meeting link.
When you first click the Zoom LTI Pro link in Canvas, you will be asked to Authorize Zoom's access to Canvas. This is safe to do. Then, you'll be ready to start scheduling meetings.
To schedule your meetings, follow these steps:
Select

 

Zoom LTI Pro on your course navigation menu.

Select the settings you would like for your Zoom meeting.

Topic: enter in a name for your session.
Scheduling options: Select the date, start time, duration of meeting, time zone, and whether or not this will be a recurring meeting.
Audio and Video options: Select whether or not you would like to use a webcam and whether to allow your students (participants) to share webcam video. For the audio options, we recommend selecting both so that if your students have any trouble with using their computer audio they can easily dial in to the meeting via a phone as well.
Meeting options: Select the options that you wish to use. If there are meeting options you wish to enable that are not available, such as pre-assign breakout rooms, you may enable those in the Zoom web portal after you have finished scheduling the meeting in Canvas.
Alternative Hosts: 

If you wish to make a TA or co-instructor your meeting moderator or co-host, enter in their email address. Alternatively, you can always 

assign a co-host from within Zoom at any time during your meeting

.

Click the blue Save button at the bottom of the page.
A meeting summary page will appear. On this page you can view the join URL or the meeting invitation. You can navigate away from this page by clicking Course Meetings in the upper left of the page to go back to your course's Zoom landing page. You can navigate back to the meeting summary page at any time if needed.
These Zoom video guides show you how to 

Using Zoom for your video conferences is quick and easy. But you want to make sure that they are secure. Learn about Zoom Meeting Safeguards to keep your meeting secure.
If you'd like to record your Zoom meetings, check Record the meeting automatically in the Meeting Options section of the scheduling form. To have the video automatically uploaded to Canvas, and to allow for automatic captioning, leave In the cloud selected. These videos will be uploaded to Kaltura My Media, where they will not be limited by Zoom's 30 day cloud limit.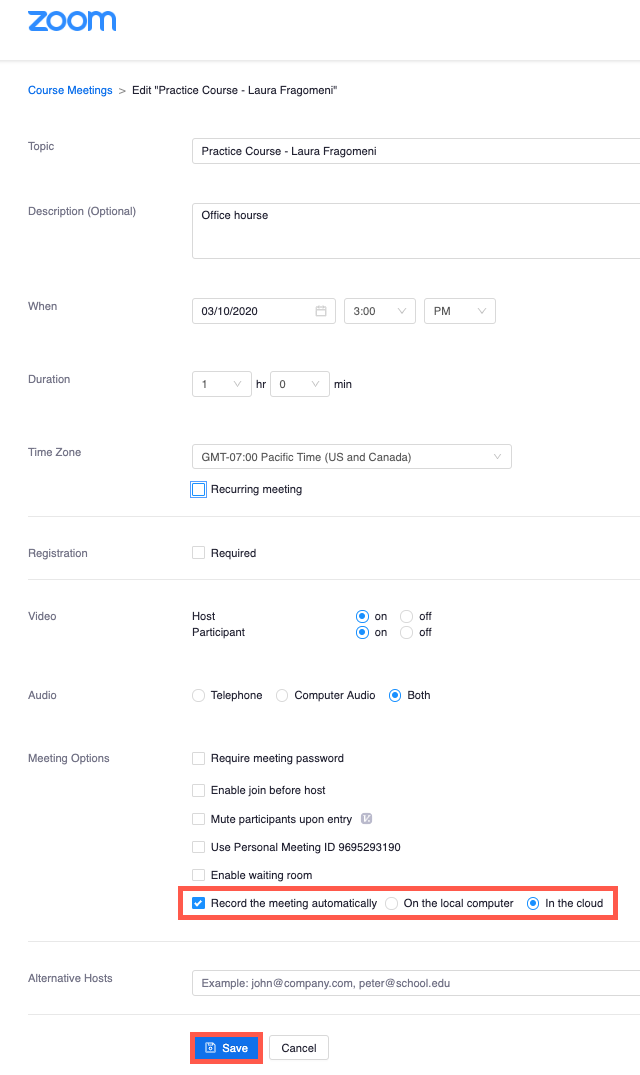 If you had Zoom record your meeting in the cloud, the recording will automatically be added to My Media in Canvas. This can take about a day. The videos in My Media will be available to you indefinitely.
In order to make the recording visible to students, you will need to publish it to Media Gallery or embed it in your course content.
To embed a recording, you can start by creating a new page in a module, then select the icon for "More external tools" (blue V) and select "Media Gallery." Click to Embed the video of your choice.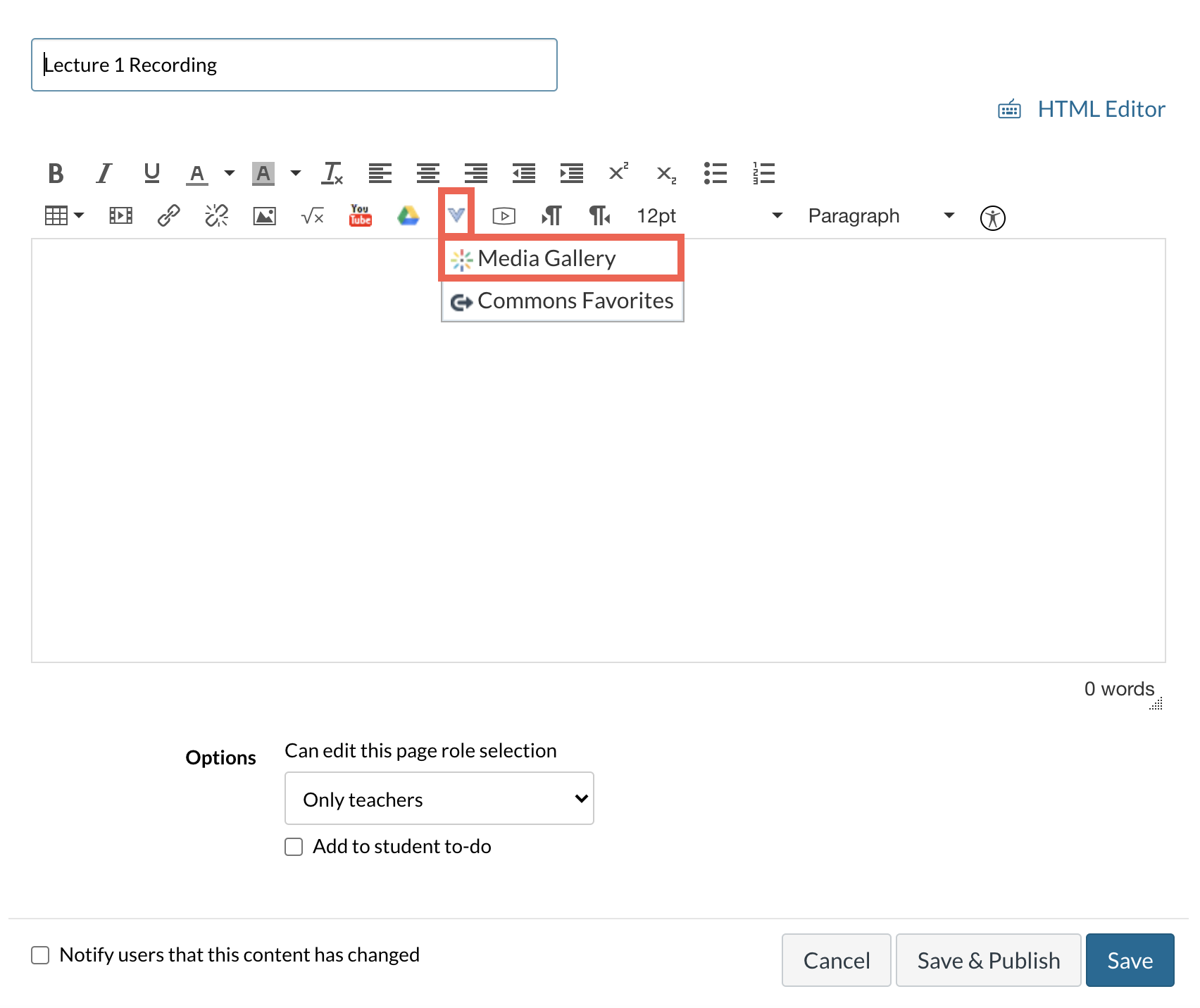 Learn how to publish a video to Media Gallery in this guide from our Multimedia Services team.
Making Recordings Available in the Zoom Cloud (Not Recommended)
Recordings will remain in the Zoom cloud for only 30 days. If you choose to share recordings directly in the Zoom cloud you may need to provide a password or disable Zoom's default password requirement. For meetings recorded in the cloud since 4/11/20, the notification email telling you the recording is ready also provides a randomly generated password for accessing the recording.
To remove the password requirement for a meeting, navigate to the Recordings tab in the Zoom web portal. Click on the meeting that has been password protected, then click the Share button in the upper right hand corner of the page. The password should be visible on the sharing pop up. Click the toggle for "Password protect" to turn it off.
To remove the password requirement for all future meetings, navigate to the Recording Settings in the Zoom web portal, and find "Require password to access shared cloud recordings". Click the toggle to turn off that setting, and recordings created moving forward will not require a password.
If you're having audio or video trouble with Zoom, the following guides may help:
If audio or video start to get choppy during a meeting, consider turning off video to preserve audio.