Zoom Guides
Last Updated: Friday, 4/16/21 at 12:27pm
The following guides describe our recommendations for using Zoom for instruction at UC San Diego.  By following these recommendations, you will be set up for secure, successful class meetings in which you can use any and all of the active learning tools Zoom has to offer, including screen share, polling, and breakout rooms.
If you have a specific question about your experience with Zoom, you may find an answer on our FAQ page. If you need further assistance, please email zoom@ucsd.edu for support.
Zoom is the video and web conferencing tool supported by EdTech Support. Zoom Pro accounts are available to all campus faculty, staff, and currently-enrolled students at ucsd.zoom.us. These accounts allow any UCSD affiliate to host meetings with up to 300 participants.
In order to get started using your new Zoom Pro account, you will need to sign in at https://ucsd.zoom.us/.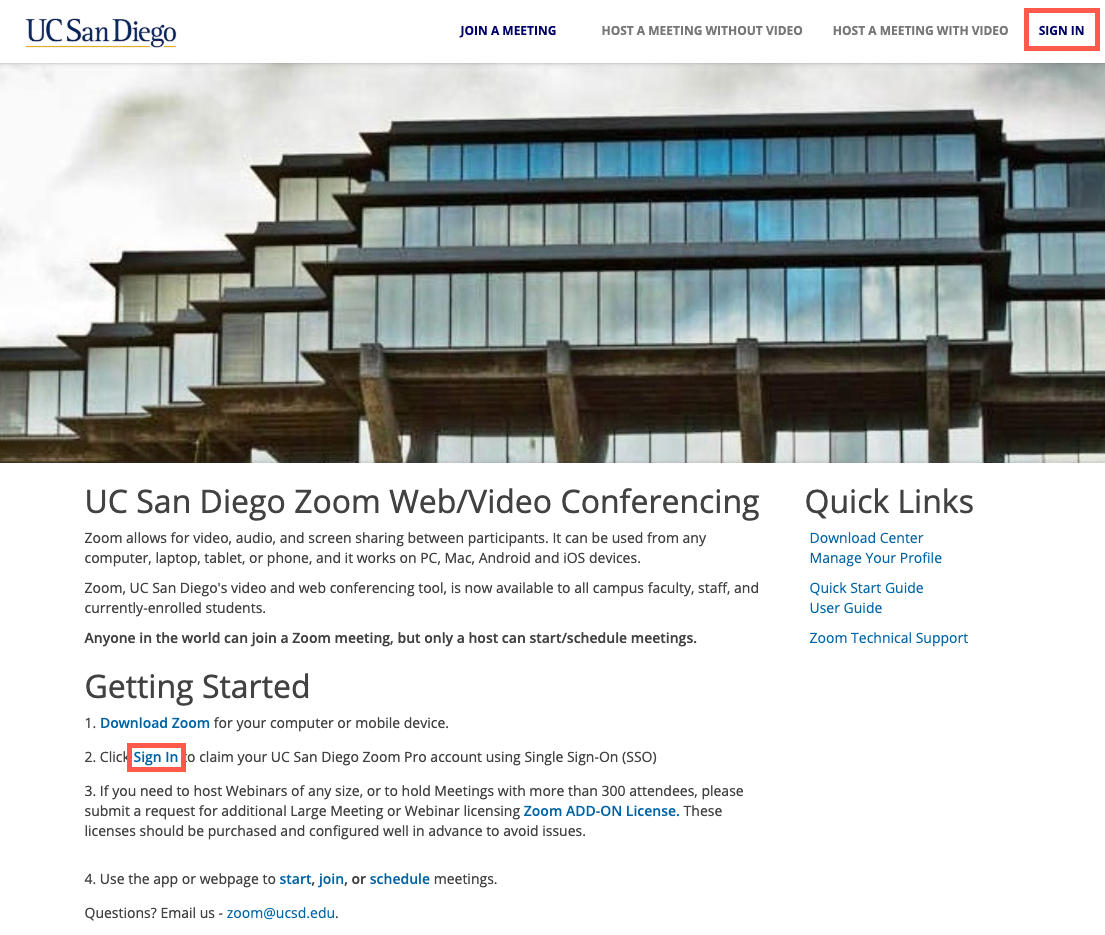 You may be asked to verify your email address by clicking a unique link that Zoom sends to your email address. It can take a few minutes for the email to arrive after you've authorized Zoom to send the email.
If you notice that your Zoom account is tied to an email address you don't recognize, or one that you are not using in Canvas, please email zoom@ucsd.edu to have this resolved.
If you have any trouble downloading or opening the Zoom software, make sure your device meets Zoom's system requirements.
The following describes settings we recommend that you update for security and ease of instructional use. To configure these settings, navigate to https://ucsd.zoom.us/profile/setting. There are a lot of settings on this page, so we recommend using Ctrl/Cmd + F to search for the setting you are interested in.
Require authentication
So that you can require students to sign in to their UCSD Zoom Pro accounts before they join a class meeting, turn on "Only authenticated users can join meetings." This is recommended for security. It is also necessary in order for pre-assigned breakout rooms to work effectively since students can only be sent to breakout rooms they were assigned to if they are signed into Zoom with the email address you used for the pre-assignments. It also ensures that their name will appear in participant reports as it does on your roster.

Chat
Consider chat settings carefully taking both engagement and security into account. You can leave the "Chat" setting on to allow meeting participants to send a message visible to all participants. You also have the option of turning off "Private chat" to disallow private messaging between meeting participants. If you are using chat extensively for class discussion, you may want to turn on "Auto-saving chats" so that you have a record of those discussions. 

Join multiple meetings
If you plan to join multiple Zoom meetings at once, such as two lab sections that occur at the same time, you'll need to turn on "Join different meetings simultaneously on desktop" before the start of those meetings. Keep in mind that you can only ever be the Host in one meeting at a time.
We recommend that you use the Zoom LTI Pro link in the left-hand navigation menu of your Canvas course site to schedule and manage Zoom meetings for your course. When you create a Zoom meeting this way, students are automatically notified and sent the meeting link. They can also use the Join button in Zoom LTI Pro to join each class. This is the most convenient and most secure way to share meeting information with your class.
When you first click the Zoom LTI Pro link in Canvas, you will be asked to Authorize Zoom's access to Canvas. This is safe to do. Then, you'll be ready to start scheduling meetings.
To schedule your meetings, follow these steps:
Select

 

Zoom LTI Pro on your course navigation menu.

Select the settings you would like for your Zoom meeting.

Topic: enter in a name for your session.
Scheduling options: Select the date, start time, duration of meeting, time zone, and whether or not this will be a recurring meeting.
Security options:

Check Passcode to require a passcode for the meeting, and Waiting room to put participants in a waiting room when the enter the meeting. Passcodes are embedded in the Join button students use to enter the meeting in Zoom LTI Pro. So, you do not need to share the passcode with anyone, your meeting will be protected, and your students will be able to enter seamlessly from Zoom LTI Pro. If you use the waiting room, you will need to admit participants into the meeting manually.
Check "

Only authenticated users can join"

If you have only UCSD affiliates in class, choose "UCSD Only - please verify your attendees domains" from the dropdown menu.

If you have guest lecturers, interpreters, concurrently enrolled students from other institutions, or other attendees who do not have UCSD email addresses, create an Authentication Exception for them:

In the Security section, ind "Authentication Exception" and click Add.

Add the email address of the individual(s) who need the exception.

Audio and Video options: Select whether or not you would like to use a webcam and whether to allow your students (participants) to share webcam video. For the audio options, we recommend selecting both so that if your students have any trouble with using their computer audio they can easily dial in to the meeting via a phone as well.
Meeting options: Select the options that you wish to use. If there are meeting options you wish to enable that are not available, such as pre-assign breakout rooms, you may enable those in the Zoom web portal after you have finished scheduling the meeting in Canvas. For all lecture meetings, we recommend the following:

Uncheck "Enable join before meeting."
Check "Mute all participants upon entry."
Check "Record the meeting automatically" and leave "in the cloud" selected.

Alternative Hosts: 

If you wish to allow a TA or co-instructor to start your meeting for you, enter in their email address. If you'd like additional staff to have host-like controls in the meeting, you can 

assign a co-host from within Zoom at any time during your meeting

.

Click the blue Save button at the bottom of the page.
A meeting summary page will appear. On this page you can view the join URL or the meeting invitation. You can navigate away from this page by clicking Course Meetings in the upper left of the page to go back to your course's Zoom landing page. You can navigate back to the meeting summary page at any time if needed.
For both security and convenience, the best way for students to join your Zoom meetings is through Zoom LTI Pro or the course calendar in Canvas.
Please keep in mind that joining the meeting through Canvas does not automatically sign students in to their UCSD Zoom Pro account. So that they are sure to be signed in with the same email address that you have on your roster, please direct them to sign in to their Zoom account at ucsd.zoom.us before joining your class meeting.
If they have any issues being allowed into the meeting, being sent to their correct pre-assigned breakout room, or even viewing a Zoom recording after the meeting, it is most likely due to the fact that they are not signed in to their UCSD Zoom Pro account. Please direct them to sign in at ucsd.zoom.us, and try again.
Becoming fluent with the following controls will help your class meetings run smoothly.
Screen share
For an overview, watch this video guide about how to share your screen.

If possible, share a specific application (e.g. PowerPoint or Chrome) rather than your Desktop

For sharing video clips:

Check "Share Computer Sound" (be sure other sounds like email notifications are off).

Check "Optimize for full screen video clip." Do not check this

if not sharing video, as it may cause the shared screen to be blurry.
Breakout rooms
You can create breakout rooms during a meeting or pre-assign them.

Pre-assignments for breakout rooms can be made in the web portal only. Click on the name of your meeting, scroll to the bottom of the page and select "Edit this meeting," then check "Preassign breakout rooms" under Meeting Options.

When breakout rooms are started, participants who are not assigned to breakout sessions will remain in the main meeting when the rooms are started.

Only the

host

can assign participants to breakout rooms.

As the host, you'll be able to communicate with students in the breakout rooms and move from one to another.

A

co-host

can leave and join any breakout room only if they join a breakout room assigned to them by the host first.
Polls
Polling questions can be added via the web portal (ucsd.zoom.us) or using a CSV in Zoom LTI Pro

Click the meeting you want to add questions to. The option to add poll questions will be at the bottom of the page.

Max: 25 poll questions for one meeting
Managing Participants
Hosts and Co-hosts are able to manage participants from the Participants Window.
This is how you will mute participants, stop their video, and remove them from the meeting if necessary.
To prevent Zoombombing, we recommend that you enable a passcode and require authentication for your meetings. It is most secure to require that students are signed into their UCSD Zoom Pro account when entering the meeting. If you have non-UCSD affiliates joining class meetings—such as interpreters, concurrently enrolled students from other institutions—you can create an Authentication Exception for those individuals. Instructions on how to do all of this can be found in the Schedule & Configure a Meeting section of this page.
To address any disruptions that may occur during class, we recommend that you become fluent with your meeting controls. Know how to:
Learn about Zoom Meeting Safeguards to keep your meeting secure.
If you'd like to record your Zoom meetings, check Record the meeting automatically in the Meeting Options section of the scheduling form. To have the video automatically uploaded to Canvas, and to allow for automatic captioning, leave In the cloud selected. These videos will be uploaded to Kaltura My Media in about 24 hours (in rare cases, it can take up to 72 hours), where they will not be limited by Zoom's 30 day cloud limit.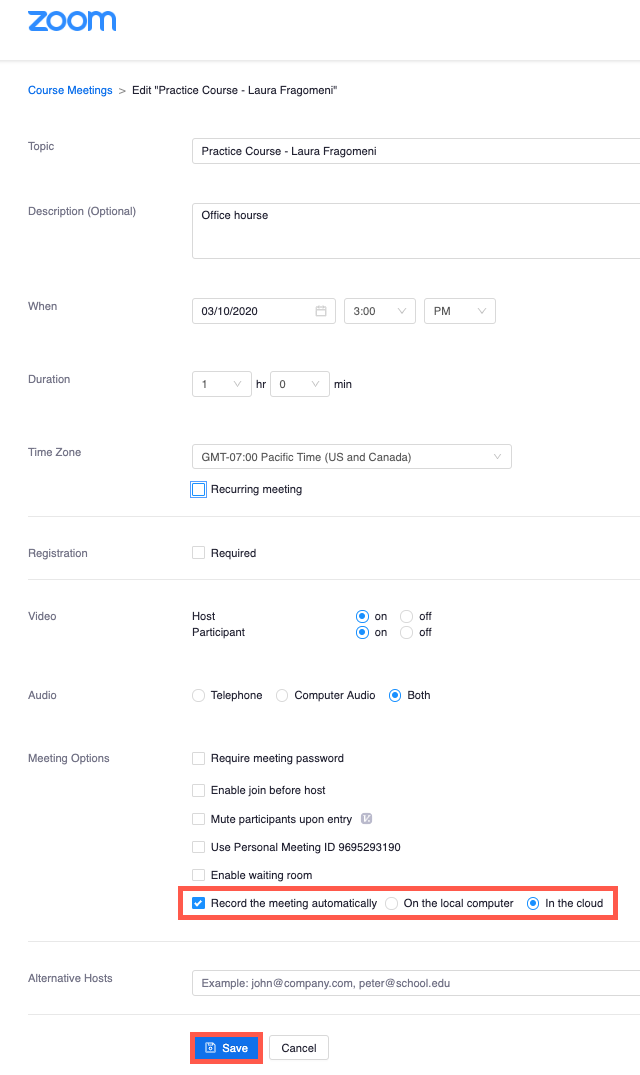 If you have a Zoom meeting recorded in the cloud, the recording will automatically be added to My Media in Canvas. Even though recordings are deleted from the Zoom cloud after 30 days, the videos in My Media will be available to you indefinitely.
In order to make the recording visible to students, you will need to publish it to Media Gallery or embed it in your course content.
Learn how to publish and embed videos in Canvas in this guide from our Multimedia Services team.
Making Recordings Available in the Zoom Cloud (Not Recommended)
Recordings will remain in the Zoom cloud for only 30 days. If you choose to share recordings directly in the Zoom cloud you may need to provide a password or disable Zoom's default password requirement. For meetings recorded in the cloud since 4/11/20, the notification email telling you the recording is ready also provides a randomly generated password for accessing the recording.
To remove the password requirement for a meeting, navigate to the Recordings tab in the Zoom web portal. Click on the meeting that has been password protected, then click the Share button in the upper right hand corner of the page. The password should be visible on the sharing pop up. Click the toggle for "Password protect" to turn it off.
To remove the password requirement for all future meetings, navigate to the Recording Settings in the Zoom web portal, and find "Require password to access shared cloud recordings". Click the toggle to turn off that setting, and recordings created moving forward will not require a password.
If you're having audio or video trouble with Zoom, the following guides may help:
If audio or video start to get choppy during a meeting, consider turning off video to preserve audio.